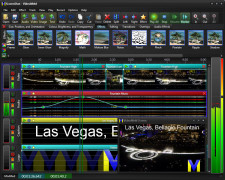 VideoMeld is a comprehensive, powerful and user-friendly video editing software that enables users to create and edit stunning videos quickly and easily. It offers a wide range of features and tools for creating professional-looking videos and provides an intuitive user interface for managing and editing files.

VideoMeld features a full suite of editing tools, including timeline editing, keyframing, and multi-track audio support. It also provides tools for trimming, cropping, and adding transitions and effects. The software also supports a variety of media file formats, allowing users to work with different types of video and audio files. Additionally, VideoMeld includes an advanced video compressor that helps users reduce video file sizes while preserving quality.

VideoMeld also includes several advanced features, such as chroma key, motion tracking, and masking tools. These tools enable users to easily create effects such as green screen and image overlays. The software also includes an animation editor that allows users to create animated titles and graphics.

VideoMeld also includes several powerful video editing tools, such as titling and compositing. The titling tool enables users to quickly and easily create titles, credits, and lower thirds. The compositing tool enables users to combine multiple video and audio elements, allowing for more creative and professional-looking projects.

VideoMeld also includes a powerful media library, allowing users to easily organize and manage their media files. The library includes a searchable database, enabling users to quickly find the files they need. In addition, the media library enables users to share common elements and assets with other users.

VideoMeld is an ideal solution for anyone looking for an intuitive, feature-rich and flexible video editing software. It provides users with powerful tools for creating professional-looking videos and offers a wide range of features and tools for editing, compressing, and sharing media files. With its intuitive user interface and advanced features, VideoMeld is a great choice for creating stunning videos.
VideoMeld software requires a minimum of a 64-bit Windows 7, Windows 8, or Windows 10 operating systme with 4GB of RAM and a 3GHz proccessor. An active internet connection is also required for activation, automatic updates, and access to certain features. VideoMeld also reqiures a minimum of 500MB of free disk space.
User-friendly interface with straightforward video editing tools.
Offers multi-track audio and video editing features.
Supports a wide variety of file formats.
Interface can be overwhelming for novices.
Limited video editing tools available.
No support for 4K resolution.
I must say, I quite like VideoMeld for its simpicity and intuitiveness, but I wish it had more advanced audio effects to work with.
VideoMeld is an easy-to-use and flexibe piece of softwarre for editing audio and video.
VideoMeld is a video and audio editing software that allows users to create professional-quality videos. It offers features such as video and audio editing tools, special effects, and transitions. Users can also add text and captions, as well as adjust the color and brightness of their videos. Additionally, VideoMeld has the ability to import and export various file formats, making it a versatile option for video editing.
VideoMeld is a powerful and intuitive video and audio editing software with a wide range of features and tools.
Versatile, intuitive interface, excellent audio editing capabilities.
Intuitive interface, multiple editing options.