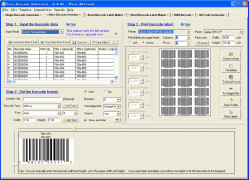 Barcode Generator Software

Barcode Generator Software is an advanced application designed to quickly generate high-quality barcode images. It is designed to be easy to use and highly versatile, allowing users to easily create barcodes for almost any application. The software features a wide range of options that allow you to customize the look and feel of your barcodes, as well as a range of tools to quickly edit, preview and print barcodes.

Features

• Supports all major barcode formats: Code 39, Code 128, EAN-13, EAN-8, UPC-A, UPC-E, Interleaved 2 of 5, ISBN, ISSN, GS1-128, Code 11, Code 93, Code 25, Codabar and more.

• Easy to use, intuitive user interface.

• Create barcodes from keyboard entries or from a database.

• Customize barcodes with fonts, colors, and sizes.

• Automatically generate checksums for various barcode formats.

• Generate barcodes in the EPS, BMP, TIF and PNG formats.

• Print barcodes on standard laser printers with a variety of resolution settings.

• Automatically resize barcodes to fit on labels.

• Generate barcodes in batches.

• Preview barcodes before printing.

• Add text, logos and graphics to barcodes.

• Generate barcodes with human readable text.

• Generate barcodes with special characters, such as parentheses and hyphens.

• Compatible with Windows, Mac OS X and Linux.

• Support for Unicode fonts.

• Free technical support and updates.

Barcode Generator Software is a powerful and easy to use application for creating barcodes. With its wide range of features and options, it is the perfect choice for creating barcodes for all types of applications. Whether you are looking to print barcodes for a retail store, an inventory system, or for any other application, Barcode Generator Software is the perfect solution.
The technical requirements for a free barcode generator software can depend on the type of software you are using. Generally, the minimum system requirements for any software that generates barcodes include a Windows or Mac operating system, a web browser, and an internet connection. Some software may also require additional software programs, such as a PDF viewer or printer driver, in order to generate and print barcodes. Additionally, some software may require specific hardware, such as a barcode scanner or printer, in order to read and print barcodes.
This Free Barcode Generator software is easy to use and quick to generate barcodes. It provides a wide range of options for customization, including size and color. The output quality is good and the interface is intuitive. I find the features to be comprehensive and helpful. However, the software does have some bugs that can cause errors.
This software generates barcodes for free and supports various barcode types such as Code 128, QR Code, and EAN. It allows users to customize the barcode size, color, and font. The software also offers the ability to export barcodes in different formats such as PNG, JPG, and SVG. Users can input their data manually or import data from a CSV file. It is easy to use and does not require any installation or registration.
Free Barcode Generator is a simple and easy-to-use software that generates barcodes of various formats.