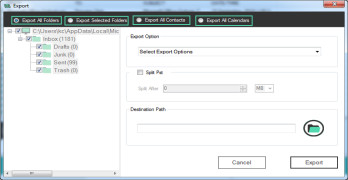 PST Viewer is a powerful, easy to use software for viewing, searching, and managing Outlook PST files. It's designed to help users quickly access and manage their email, contacts, and other important data stored in Outlook PST files.

PST Viewer features a sleek GUI that makes it easy to find and view emails, contacts, appointments, tasks, and other Outlook items. The software also features advanced search and filtering capabilities to quickly locate specific items. It also supports drag-and-drop functionality for quickly moving information between PST files. PST Viewer also includes a range of security features to protect your data, such as password-protection of individual PST files and encryption of files.

PST Viewer is also highly customizable, allowing users to customize the interface and view items in a variety of formats, including HTML, RTF, TIFF, and PDF. The software also includes a range of advanced features, such as support for multiple PSTs, the ability to export data to a variety of formats, and the ability to preview items before opening them.

Overall, PST Viewer is an excellent tool for viewing and managing Outlook PST files. It's easy to use, feature-rich, and highly secure. This makes it an ideal choice for businesses, organizations, and individual users who need to access and manage their Outlook data quickly and securely.
The PST Viewer software requires the followig technical requirements:

- Windows XP, Vista, 7, 8, 8.1, 10
- Microsoft Outlook 2003, 2007, 2010, 2013, 2016, 2019
- .NET Framework 4.5
- Pentium 4 processor or higher
- At least 256 MB RAM
- At least 50 MB of free hard disc space
I found Free PST Viewer to be a great tool for quickly reviewing Outlook data files, though I did have a few issues with the softwar hanging when opening large files.
Free PST Viewer is a software that allows users to view and access PST files without the need of Microsoft Outlook. It supports all versions of PST files and enables users to view emails, contacts, calendar entries, notes, and tasks. It also allows users to search for specific items within the PST file and provides a preview of attachments. Other features include the ability to copy, print, and export data from the PST file. Overall, it is a helpful tool for those who need to access PST files but do not have Outlook installed.
Free PST Viewer software is a useful tool for viewing PST files without Microsoft Outlook.